Saturday was spent surprisingly not hung over.  I had donated the last of my vodka to
Duplex's party
, so I went to the liquor outlet to get another case.  Their prices went up.  Boo.
Tighty Whitey texted me about a costume party in
Hell's Kitchen
. 
Sweet!
  Since last night was a creative costume, t
onight will be my chance to do a slutty costume!
Maybe it's hosted by some hot Hell's Kitchen daddy and his friends!
  Tighty Whitey suggested that we meet on a street corner rather than a bar (which is always tricky b/c I'm never on time, but I guess it makes sense from a non-drinker's perspecive).  I didn't know how many people were coming with us, so I asked him who was hosting the party just in case we had to arrive separately.  He texted me a woman's name.
D. Kareem: Is this a straight party?...  i.e., should I wear a shirt?
Tighty:
There will be straight people there, but my friend is truly outrageous, so you can feel free to go shirtless.
Right.  Definitely gonna need a Gatorade bottle.

I met Tighty Whitey about 20 minutes late (shit!). We  heard almost no noise outside the door when we approached (double shit!).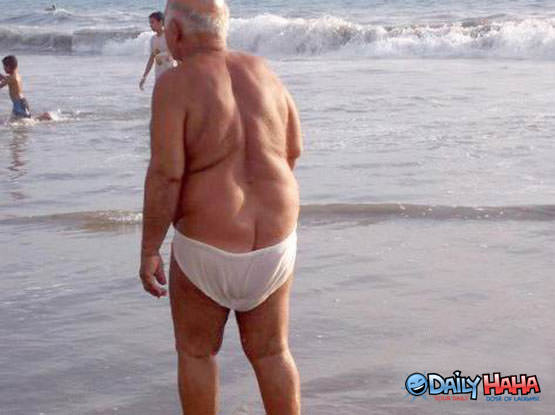 We were welcomed by the host's enthusiastic greeting and a few awkward introductions. 
Thank god I had that Gatorade bottle on the way down,
I thought as I went to change into the speedo, which turned out to be a big hit... among the girls.  



Highlight of the party: a hot girl and I did the "
Single Ladies
" dance.  And by "did", I mean danced the bits and pieces that we knew (she had learned about twice as much as I had).
Tighty Whitey and I met up with some more of the boys at
Barrage
for their Saturday night happy hour.  I had had at least 4 or 5 drinks at the house party, and I had another two at Barrage (in the speedo).  On the way to the bathroom, I caught a cute youngish guy craning his neck around to check me out.  So I turned around and looked him in the eye, "Nice, huh?"  I've never seen anyone blush so much.  After about a half hour, I convinced Urban Sprawl to come uptown. 
No Parking
.  In a speedo.
Okay, okay.  I didn't wear the speedo on the train, just at the bar.  Of course, not a single soul was dressed up, so it was everyone else in sweaters and jeans and D. Kareem in an orange speedo.  Oh, and that queen that I had flirted with last time I went there but pissed off when a guy from my old gym grabbed me and made out with me to prove a point to his friend (huh?).  He had his shirt off.  As usual. 
I made sure to greet one of my favorite No Parking regulars (an older fruit fly who's
always
 with Costello of
Escandálo Nights
).  And older guy was with her, and he was wearing one of those granny sweaters that women in offices keep on the back of their chairs.  With the tight tshirt underneath, he looked like he had a decent body, so I suggested that he take the sweater off (I may or may not have included his shirt in my suggestion).
I joked with him for a bit, but then I realized that even through the beer goggles, I didn't find him attractive.  In. The. Least.  Urban Sprawl was of no help getting me out of that rather sticky situation.  When I turned around for assistance, she was making out with some really cute guy, and the both of them ninja-ed soon thereafter.
So I'm drunk.  By myself.  In a speedo. 
I really hope this coat check ticket is still in my sock.
  Around 3 (the switch to standard time gave me a much needed extra hour of drinking), this really cute guy in a white shirt comes by staring at me.  I grab him, and we talk for a while, our noses dangerously close to each other.  Then he has to go to the bathroom. 

WTF?

 

I thought this guy was into me.

 
Well, apparently he was because he found me.  And then the grinding starts.  Please tell me why I'm grinding with a guy I'm
really
attracted to in a speedo?  "Wanna go?"  "Ok."



First, he tells me he lives around the corner, but he can't have me over because his room is only semi-private.  He asks me to walk him home, and I do.  There would have been some light making out at the door if we were below 96th st.  Then he's like, "Come up for a sec.  I only live on the 2
nd
floor."  Hardcore make-out session followed by some I'm-seeing-somebody-but-I'm-so-attracted-to-you story.  Next thing I know, my dick is in his mouth.  After about 10 minutes, I see that it's probably not going to go any further, so I point out that one of his roommates could walk into the kitchen at any time.  This would be awkward (especially with my pants around my ankles and my coat
still on
), so my blue balls and I take the 20-block walk home.  I leave my number.  He promises to call (vomit).
Did I mention that I
love
Nubian 101.com?  Yeah.
Click here if you missed Halloween.
Note: you may find the "Topics of Discussion" on the right and the 

 

Cast of Characters

 to be of help in navigating this blog.